Buy or Sell a Business. Find the Perfect Match with Wide Exposure
AiLOQ is an effective platform and SaaS provider to buy, sell, and grow a business. Through our comprehensive business listings, we are connecting numerous business buyers, sellers, and customers every month. Gain visibility and expand your outreach. Get fast results with wide exposure. AiLOQ is ADA compliant and this is where you find your next successful revenue source.

Post a Business Opportunity
Features
We bring to you an easy-to-use business directory with a global user base. We help you market, advertise and promote.
Businesses of all sizes
AiLOQ lists businesses of all sizes – from small scale enterprises to large companies and franchises. We are the perfect matchmakers between potential buyers, sellers, and customers providing increased visibility to all parties, and speeding up the transaction. With AiLOQ, you can identify worthy opportunities as soon as they hit the market and drive home optimal results.
All industries in one place
Multiple businesses are listing regularly on AiLOQ. We are the ultimate inventory for interested buyers and customers who are looking to own enterprises in thriving sectors or take the services of industries like advertising, finance, beauty, entertainment, retail, IT, travel, pet care, child care, auto, health and fitness, and more. Search for your preferred industry, employ our expertise and grow your revenue.
Profitable 360-degree virtual tour
Using AiLOQ, you can give your potential buyers and customers a compelling 360-degree virtual tour of your business. Virtual tours increase engagement by almost 10 times and add credibility to your brand. Make money by using premier features like video conferencing, interactive interfaces, and in-tour shopping carts that help to shorten the sales funnel. Or, sell your business live by delivering a powerful pitch during the tour.
Share on any social media right from AiLOQ
Increase your visibility further by sharing your AiLOQ profile along with your services and posts on social media. Right inside your listing, we place social media buttonsalongside all the important details to allow anyone to share your business information on their social media handles. Take advantage of the increased exposure and find investors, buyers, and customers through social engagement. AiLoQ is all about promoting your business and increasing your visibility.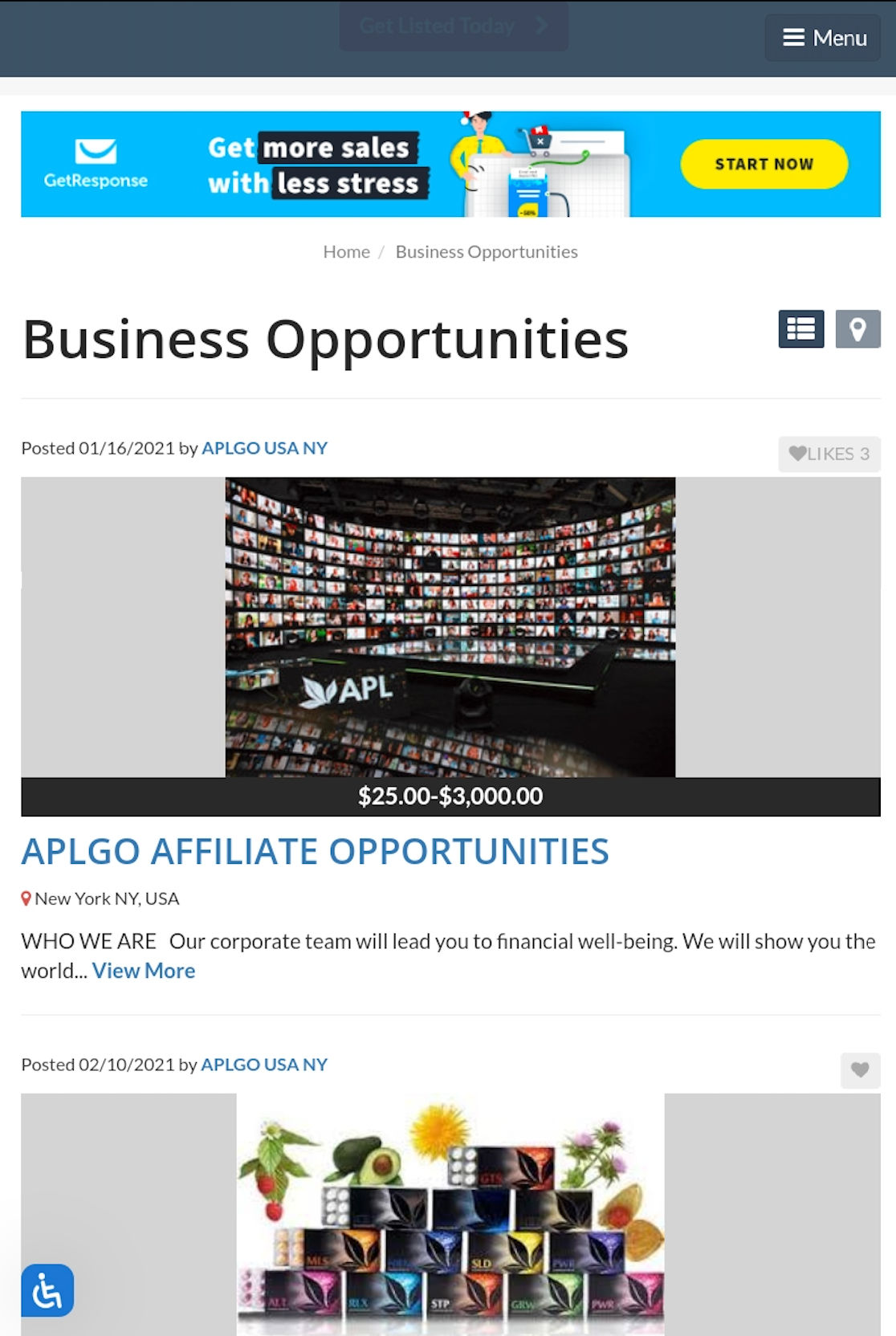 Business For Sale Listing Packages
---
Standard
List your business for free in AiLOQ. With our standard package, you get managed leads at the rate of $1 per lead along with the provision to upload your own 360-degree virtual tour and apply your tools on the tour to create outreach. Also get an all-inclusive base package of multi-language customer support, business for sale listing, all categories applicable, and your listing management account. And if you are a buyer, this package is all that you will need in your AiLOQ account to start searching for your next venture.
Join Today
Optimized Listing
Starting at only $34.95 per month, our optimized package is designed for businesses on a budget. Get dedicated free leads directly into your AiLOQ profile. Have access to the exclusive 360-degree Interactive Virtual Tour tool where you have the power to create your own optimized virtual tours – totally self-managed. We also offer you an enhanced position in our listing, send a monthly solo email blast and social media shoutout, and blog post optimization products and services.
Join Today
Elite Listing
The Elite Listing package is where you delegate the entire outreach program to us. We create the 360-degree Interactive Virtual Tour for you – concierge style experience with your own dedicated AiLOQ account manager. We customize the tour to include e-commerce features and team presentations. Also get both managed and free leads, on-page SEO, Facebook PPC, blog banner design, and content management of your profile. Tap into AiLOQ's expertise at only $149.95 per month.
Join Today
Make Money for your Business
As the world increasingly goes digital, beat your competition and capture your customers/investors with AiLOQ. List in our directory and be visible where people are searching for you. Go majorly digital by integrating 360-degree Virtual Tour and selling your business or product live. Increase revenue and profitability. Create fast and targeted outreach. AiLOQ is where you list to make money. We assure complete transparency and a 100% quality business directory.
Join Today
Buy a Business. No Key Money Required
Take advantage of AiLOQ's expansive outreach and connect with genuinely interested sellers who are looking for a buyer just like you. With AiLOQ, you do not spend any key money for setting up a business. Buy fully established enterprises with the necessary infrastructure and capital and start making money almost immediately. Benefit from the competitiveness in AiLOQ. We have designed our platform to be the perfect match-maker, eliminating hassles and simplifying the process.
Increase Your Outreach with AiLOQ Experts
As you list your business on AiLOQ and opt for our Elite package, you get assigned a dedicated account manager with content and brand management expertise.We will help you to increase visibility by giving your business a professional touch on our platform. We will assist you to build your profile by crafting bespoke content, and create and optimize your 360-degree Interactive Virtual Tour to increase outreach. Thousands of businesses on AiLOQ are already benefiting from our brand awareness campaigns and it is time we provide the same to you.
Get Leads Sent Directly to your Account
We will direct real-time leads into your account as and when buyers come searching for your business niche. The AiLOQ team compiles and sends a full list with contact details. We assist you with our lead generation expertise and enable you to find buyers quickly and efficiently. You have the power to accept or reject the leads.
FAQ
Frequently Asked Questions
---
Still unsure about AiLOQ? Have doubts? Clear all your queries here.
Do you find me a buyer or seller?
AiLOQ is a business directory website and SaaS platform with full advertising, marketing, and promotional tools. We help by providing you a one-stop platform to list your business for selling or buying an enterpriseand send both managed and free leads into your AiLOQ profile depending on the package you take.
Do you get commissions from business buyers or sellers?
Not at all, AiLOQ does not receive any commission if a buyer decides to buy your business listed on our directory. However, if you are on a standard package, we charge just $5 per lead for our managed lead services during selling. This is free on Optimized and Elite packages.
For how long can I list my business on AiLOQ?
You may list your business for as long as you wish. You can start with 30 days. Beyond that, you can renew your package and list for a further 30-days. We maintain a monthly package system keeping in mind the business needs of all sizes.
What payment modes do you accept?
We accept digital payments. For listing your business on AiLOQ, you can use credit/debit cards of all major service providers.